| | |
| --- | --- |
| | Perfect Keylogger for Mac - records everything on macOS 13 Ventura and below! Now supports all Intel and ARM CPUs |

Perfect Keylogger for Mac is a simple and proven software for user's activity recording on Apple Macs (MacBook Air/Pro, iMac, Mac Mini). This app records every single keystroke typed, captures both ways of chats in Apple Messages, records websites visited in all major web browsers, periodically makes screenshots of user's activity, and much more! Now it supports the password recording on all macOS versions - up to macOS Ventura. Attention: Administrator's password is required to install Perfect Keylogger on your Mac!
You can receive all user's activity reports by email (for example to the most popular Gmail and Yahoo), or get everything delivered to your private web hosting account. Perfect Keylogger would be useful to keep an eye on your kids; for employee monitoring, and in many different situations. We are focused on quality and customer satisfaction and our goal is to deliver the best product and best service you can find today - without stealing your personal data, like many competitors! We have no access to the data, that has been recorded by the Perfect Keylogger.
We offer the personal license for 3 years - without any subscription or upgrade fees.
With 20+ years of experience in computer monitoring software, we offer the proven product you deserve!

You can get the latest version now - from $34.95 USD
If you need to install this app on all your Macs, you can purchase our Unlimited license for $599 $99. Please click here for details.

Perfect Keylogger for Mac features:
Easy and fast installation - without reboot
Keystroke logging and application monitoring - keylogger will record all keystrokes (including special keys) typed in every application* - Pro version only
Password recording in all applications on all versions of macOS!
Retina display support (see screenshot below)
Records all Mac users in multi-user environment, including guest account! (new)
Records both ways of chat conversations for many popular messengers
Website recording (records all web addresses/titles visited in all popular web browsers)
New! Website blocking, based on simple black lists
Screenshot recording (with selective recording of the apps you need)
Snapshot recording with an iSight camera. Find out what's happening in your room while you're away!
Slideshow playback
Keystroke and screenshot recording in Windows applications (if you use Parallels Desktop, VMware Fusion or other virtual machine for Mac OS X to run Windows)
Email delivery - the log files will be periodically emailed to you (including keystrokes, chats, websites and screenshots)
Emailed logs can be received and reviewed on a Mac, Windows PC or any other device with email support (including iPhone and iPad)
FTP support (you can secretly upload keystrokes, chats, websites and screenshots to your website or another computer)
Simple built-in Log Viewer - offers easy navigation through the log files
Password protection
Can monitor every user account of your Mac
Fully supports all recent versions of macOS (macOS Ventura, Monterey, Catalina, Mojave and earlier)
Dark/Light mode support on macOS Mojave and later
Works on Apple Silicon Macs
Available in English, German, French, Spanish, Italian, Dutch and Norwegian
Friendly and easy to use user interface - even for novices!
Great price - much more affordable than competing products!
One-time payment without subscription fees, license valid for 3 years and tech. support by email
Great volume discounts!
Additional details:
*To record user's passwords, please click here to purchase the Pro version for additional $12.
This software is only for computers running Apple macOS (iMac, MacBook Air/Pro, Mac Mini, Mac Pro etc).

Buy Perfect Key logger for Mac now - secure online purchase - just $34.95!



and more...
Screenshots of the Perfect Keylogger for Mac
Options: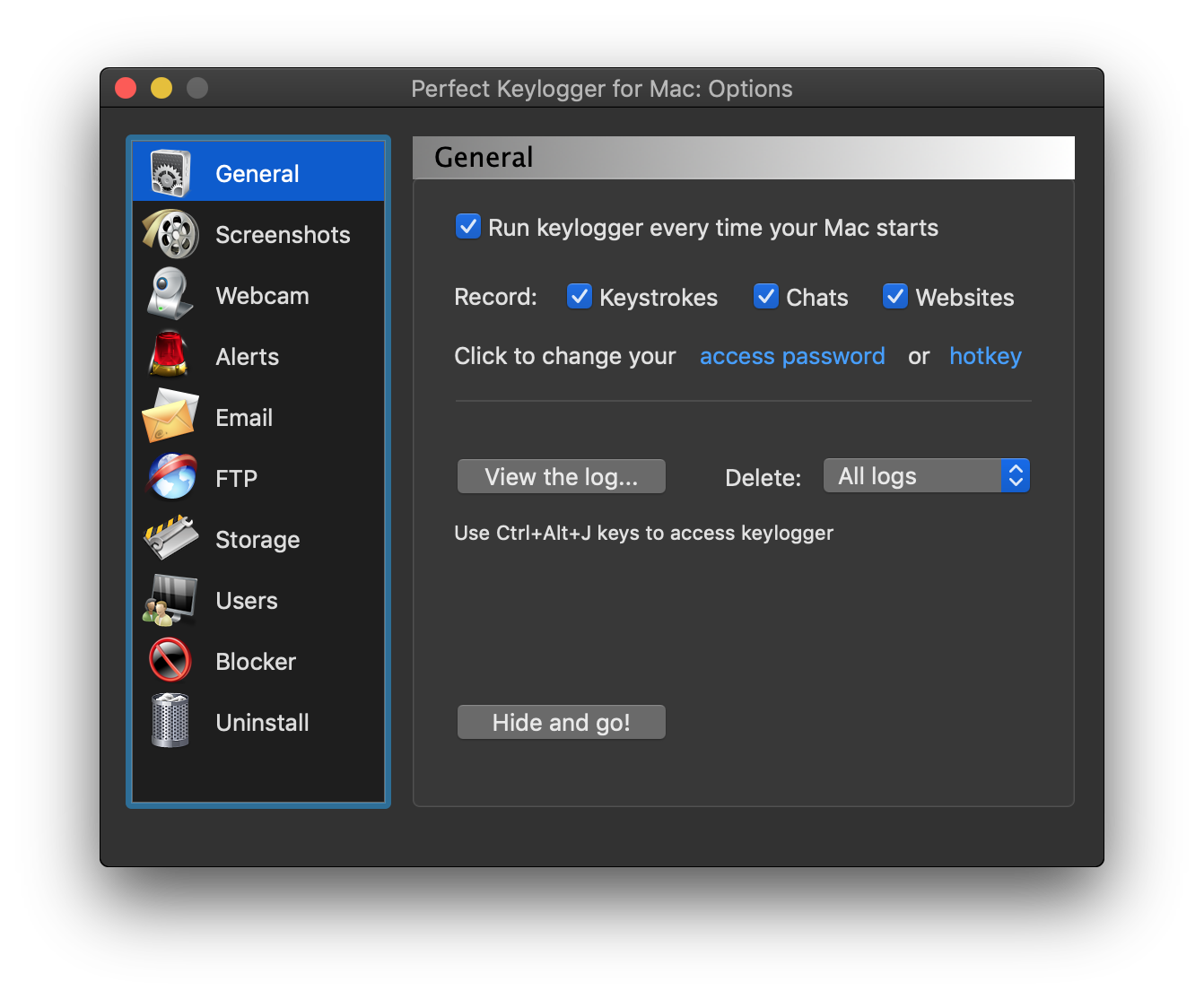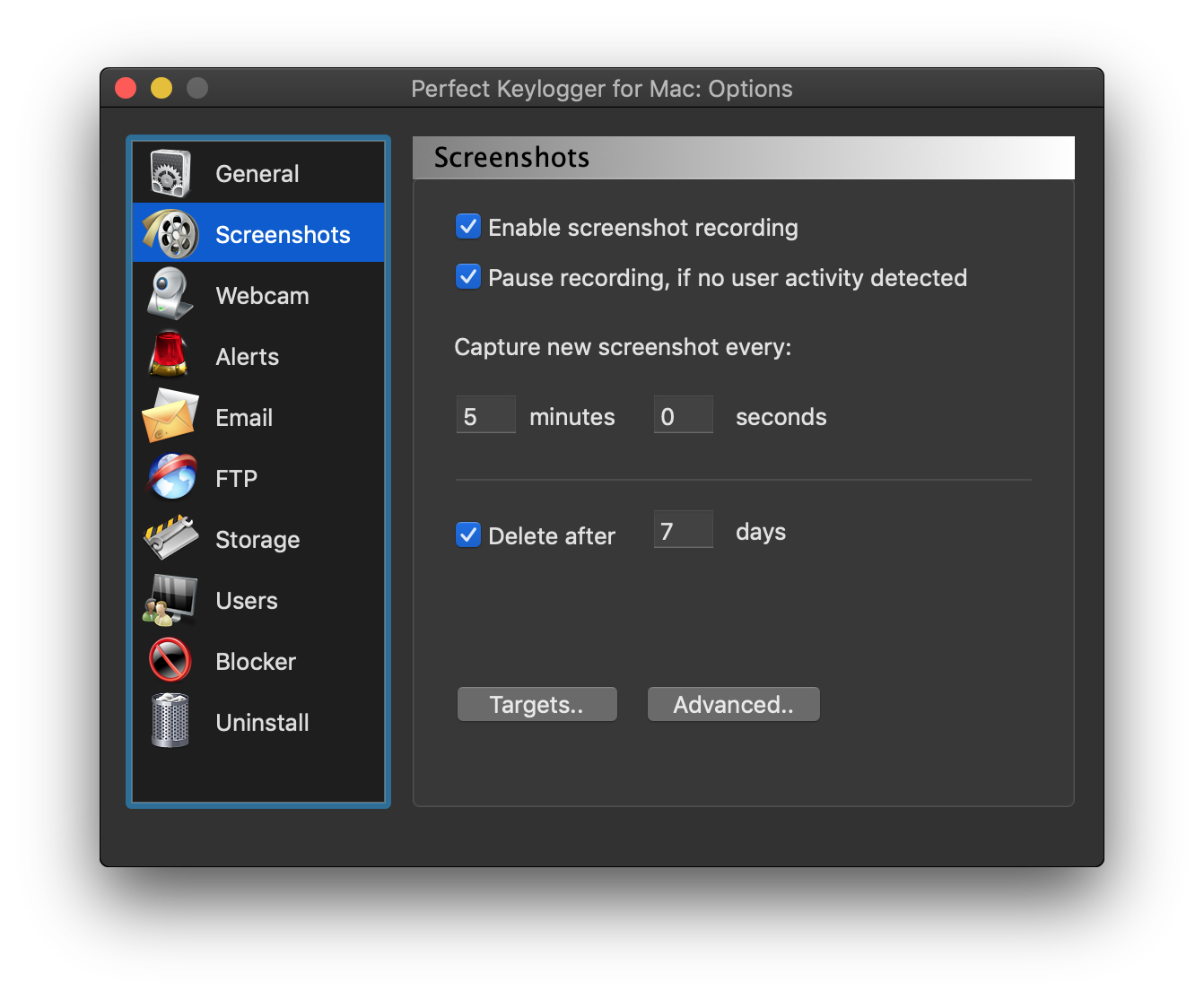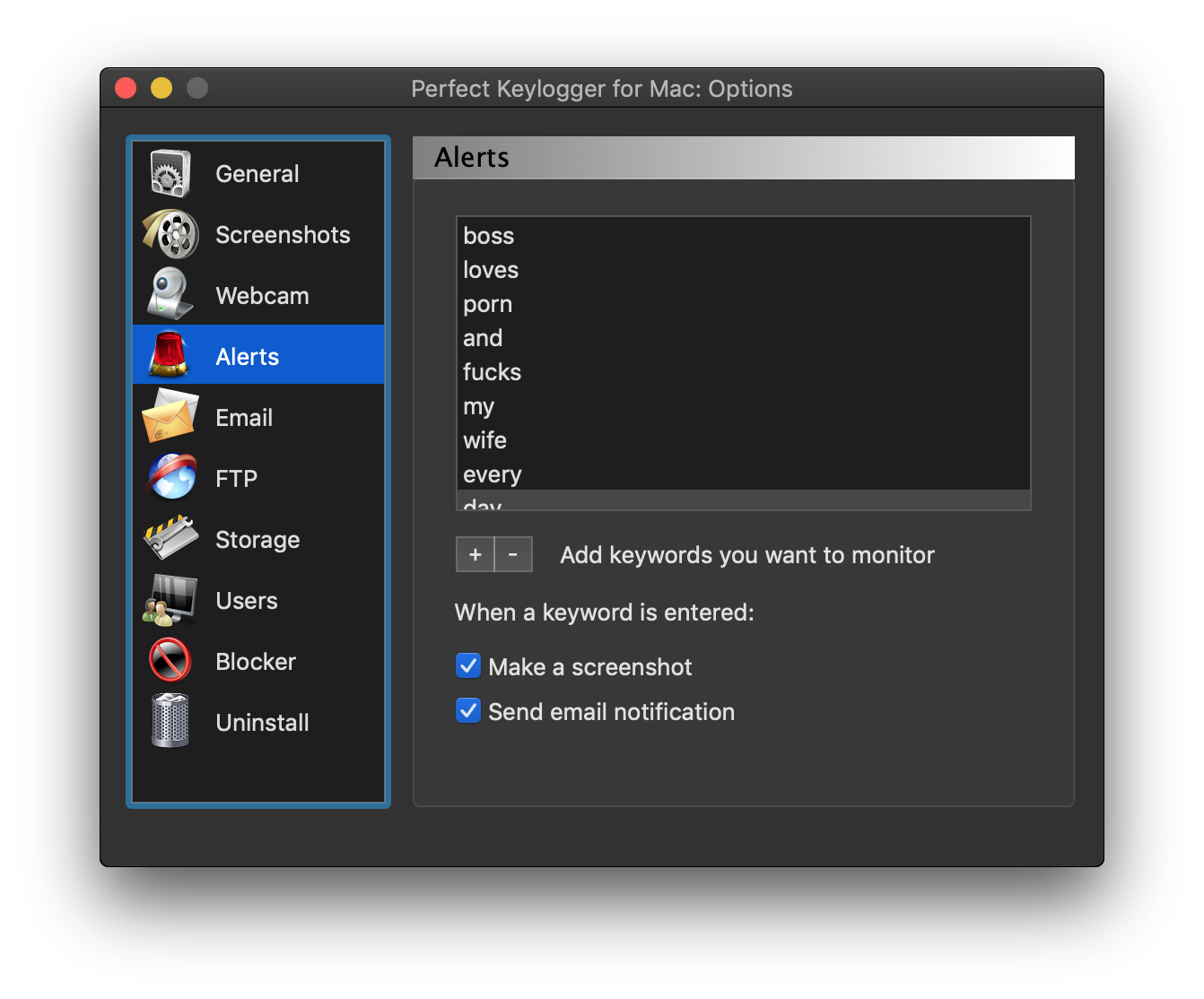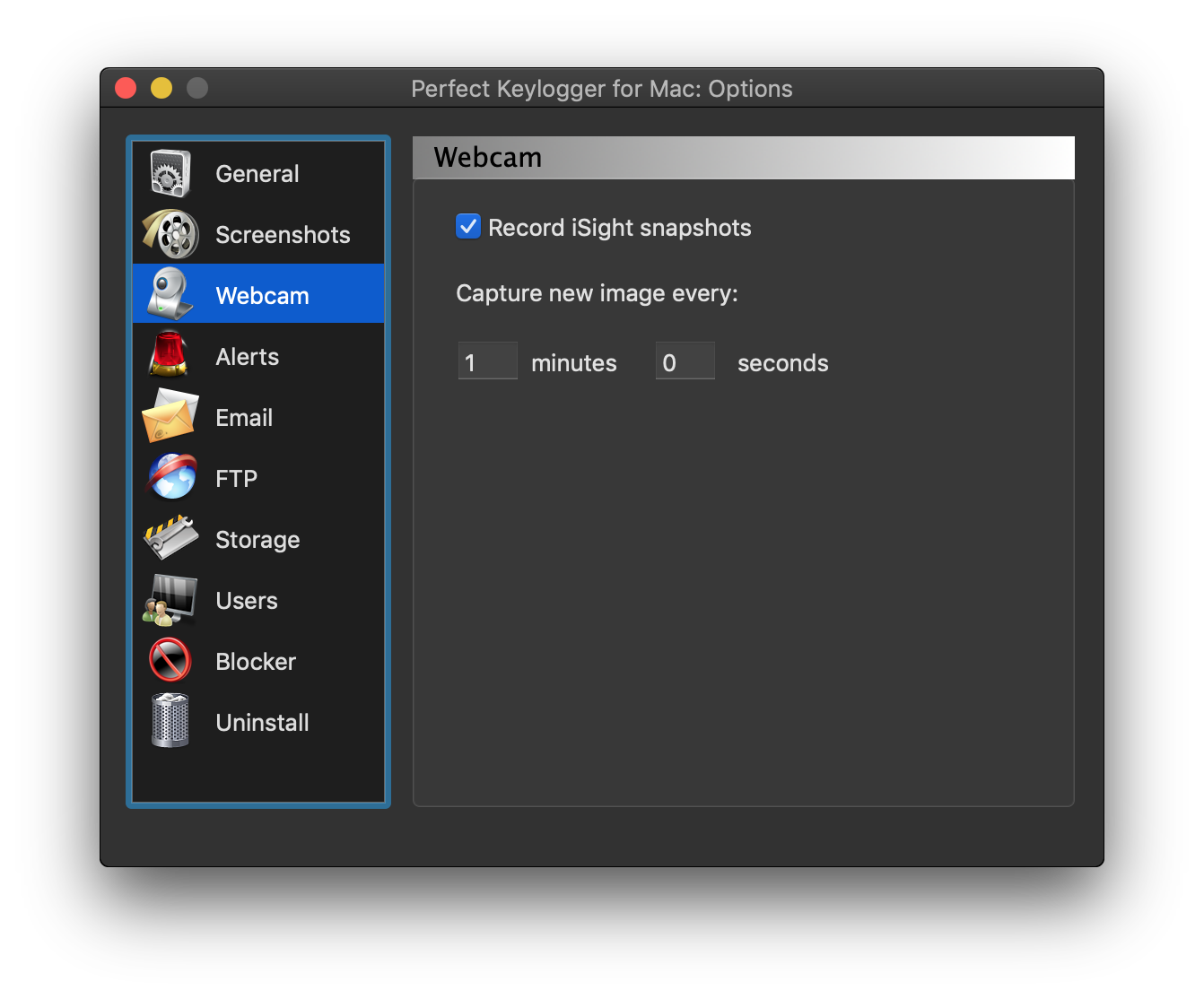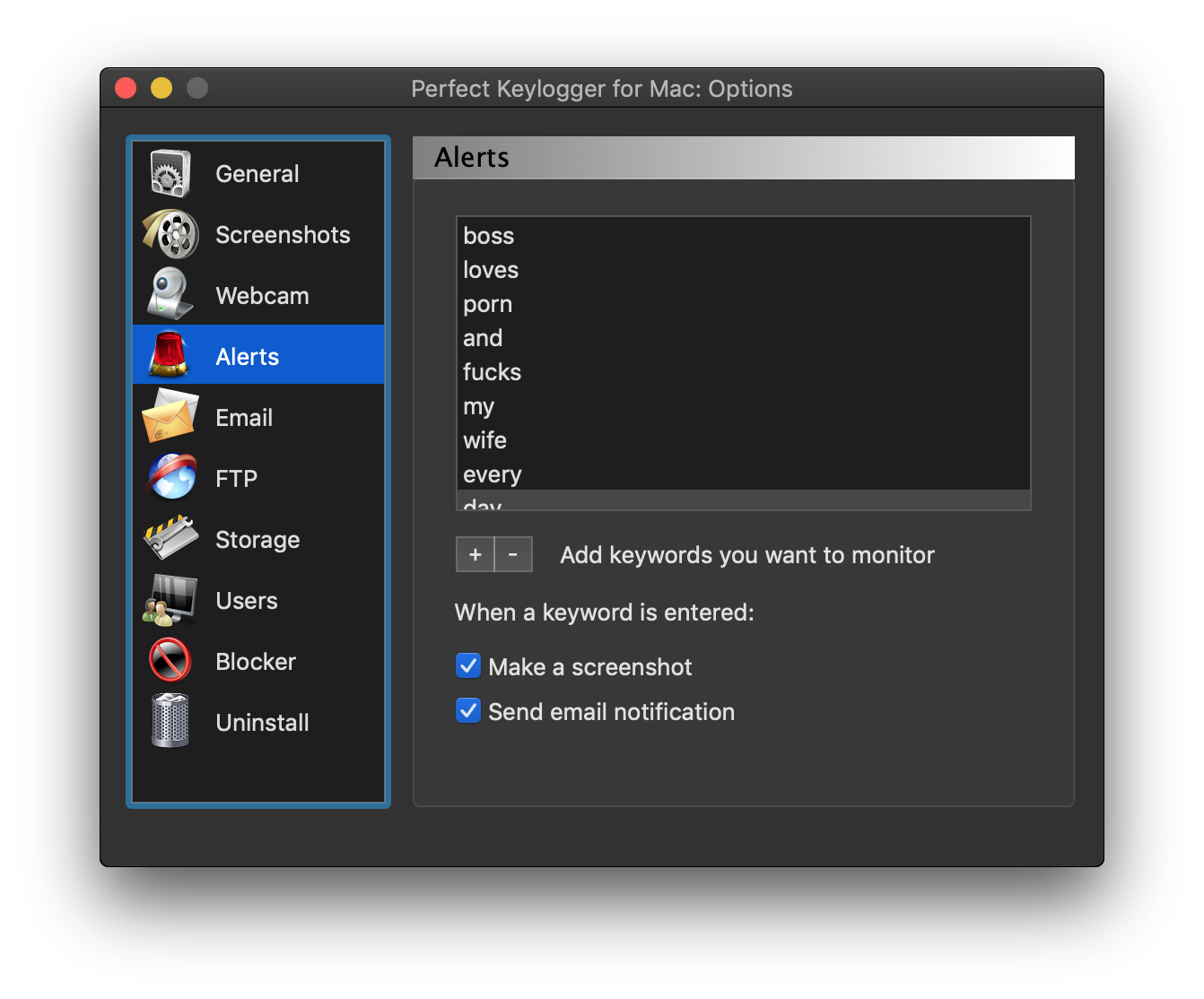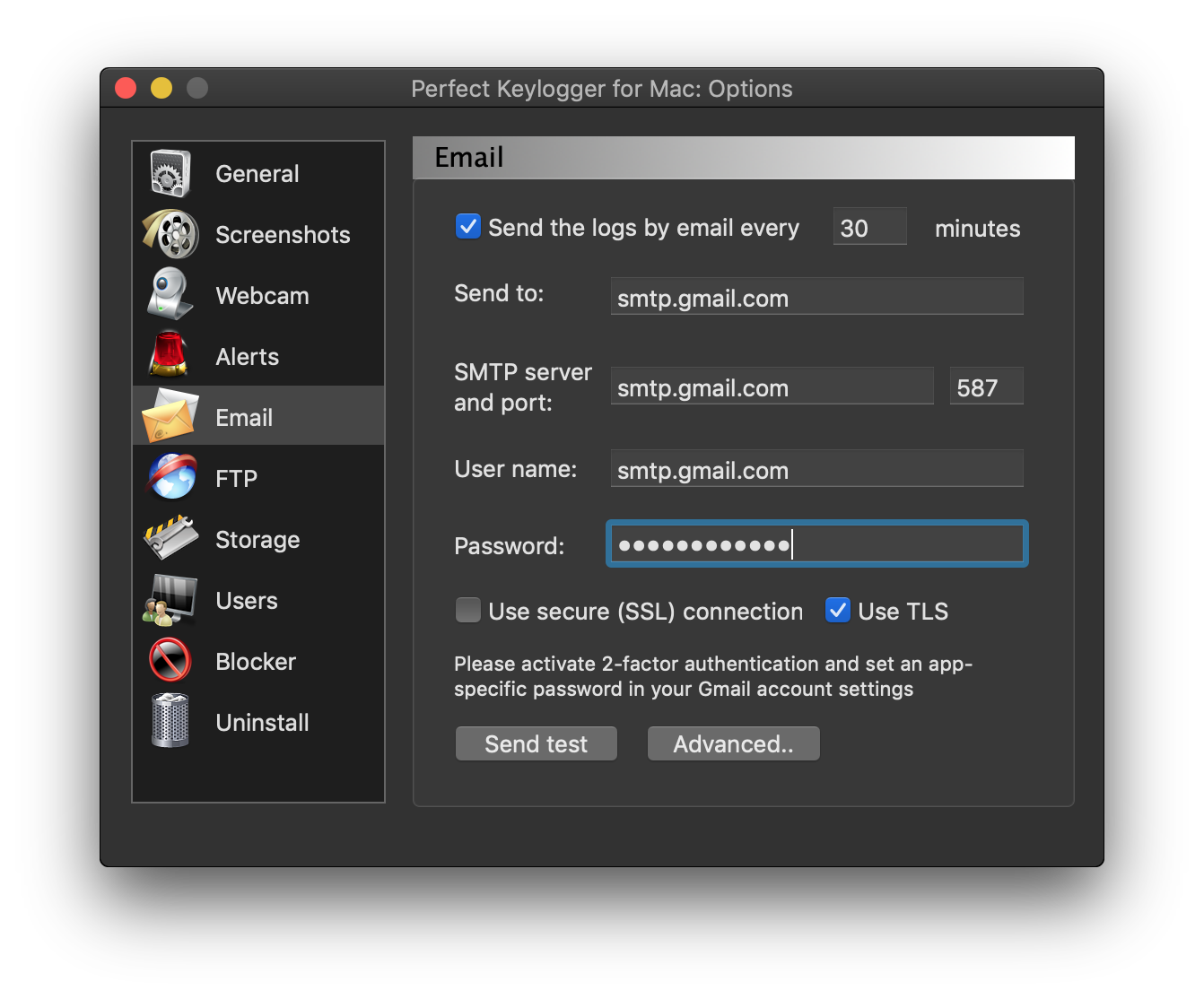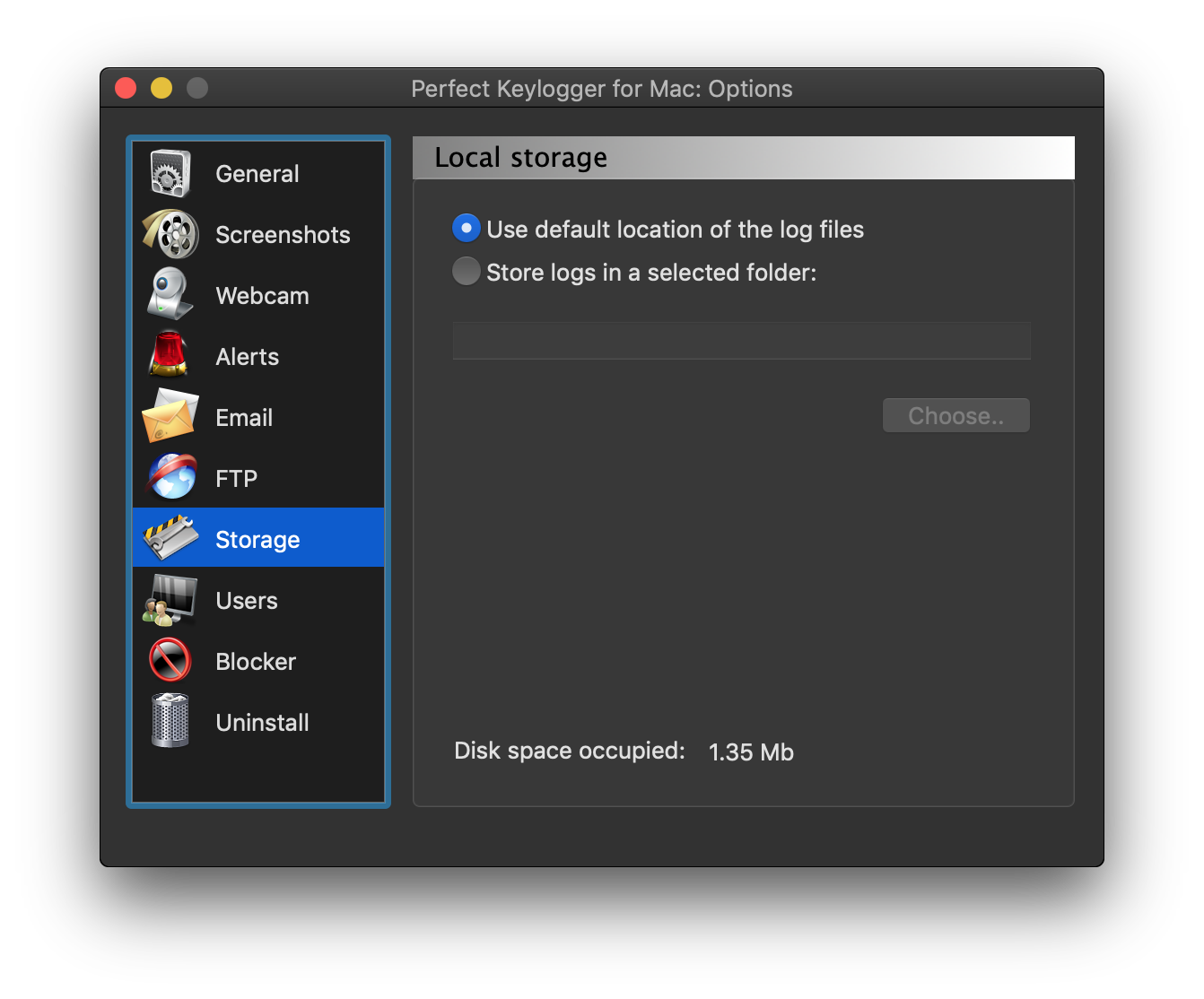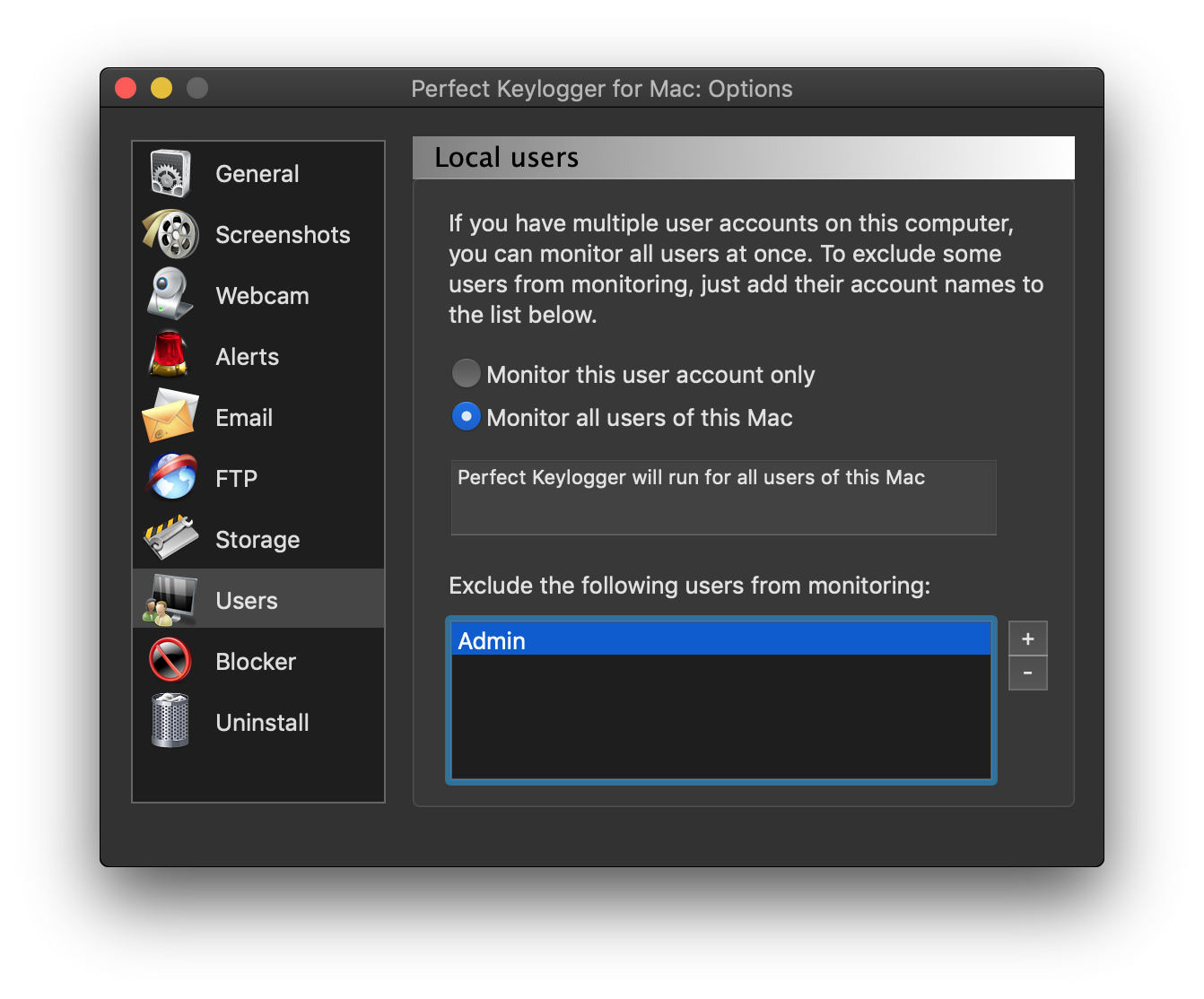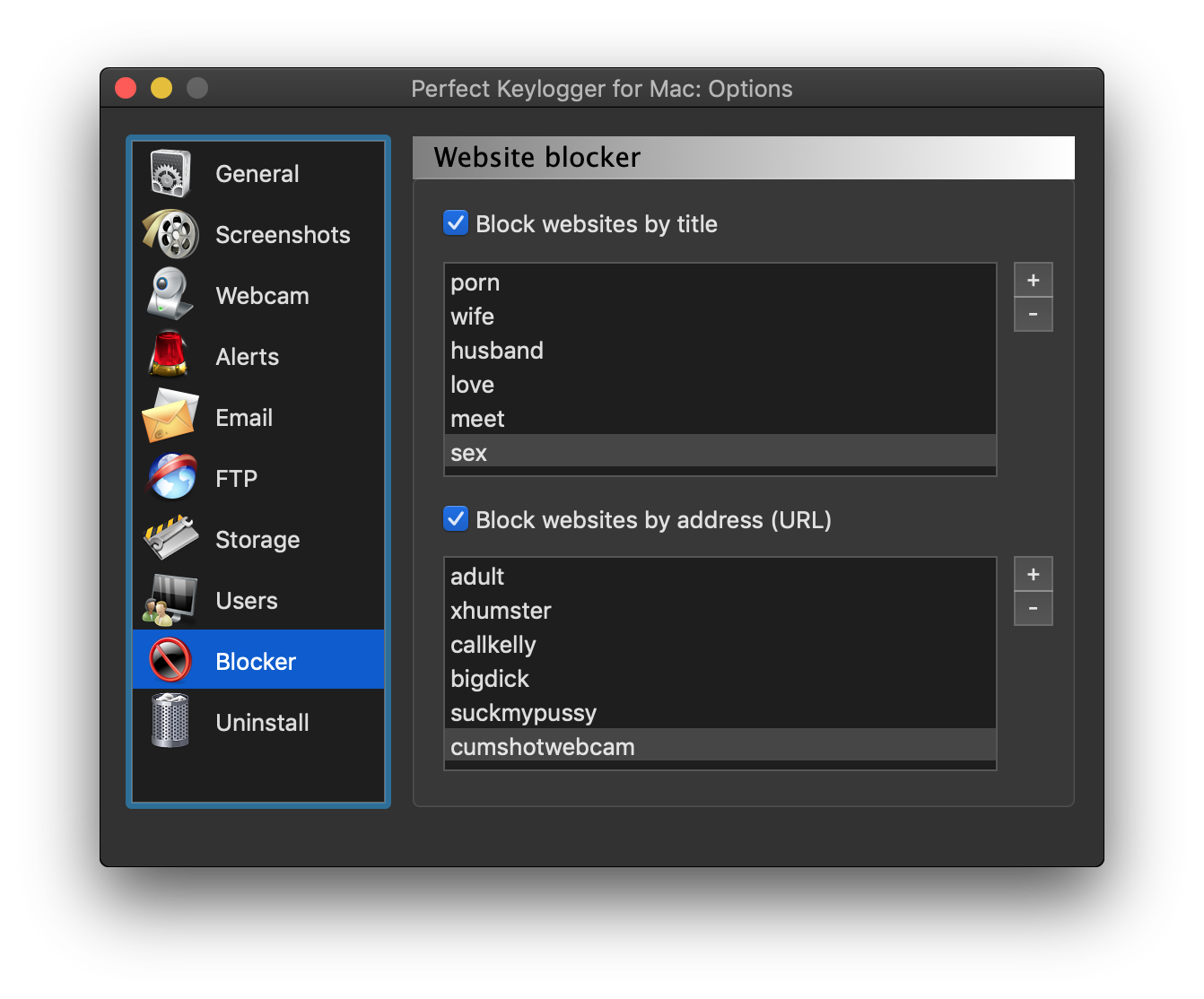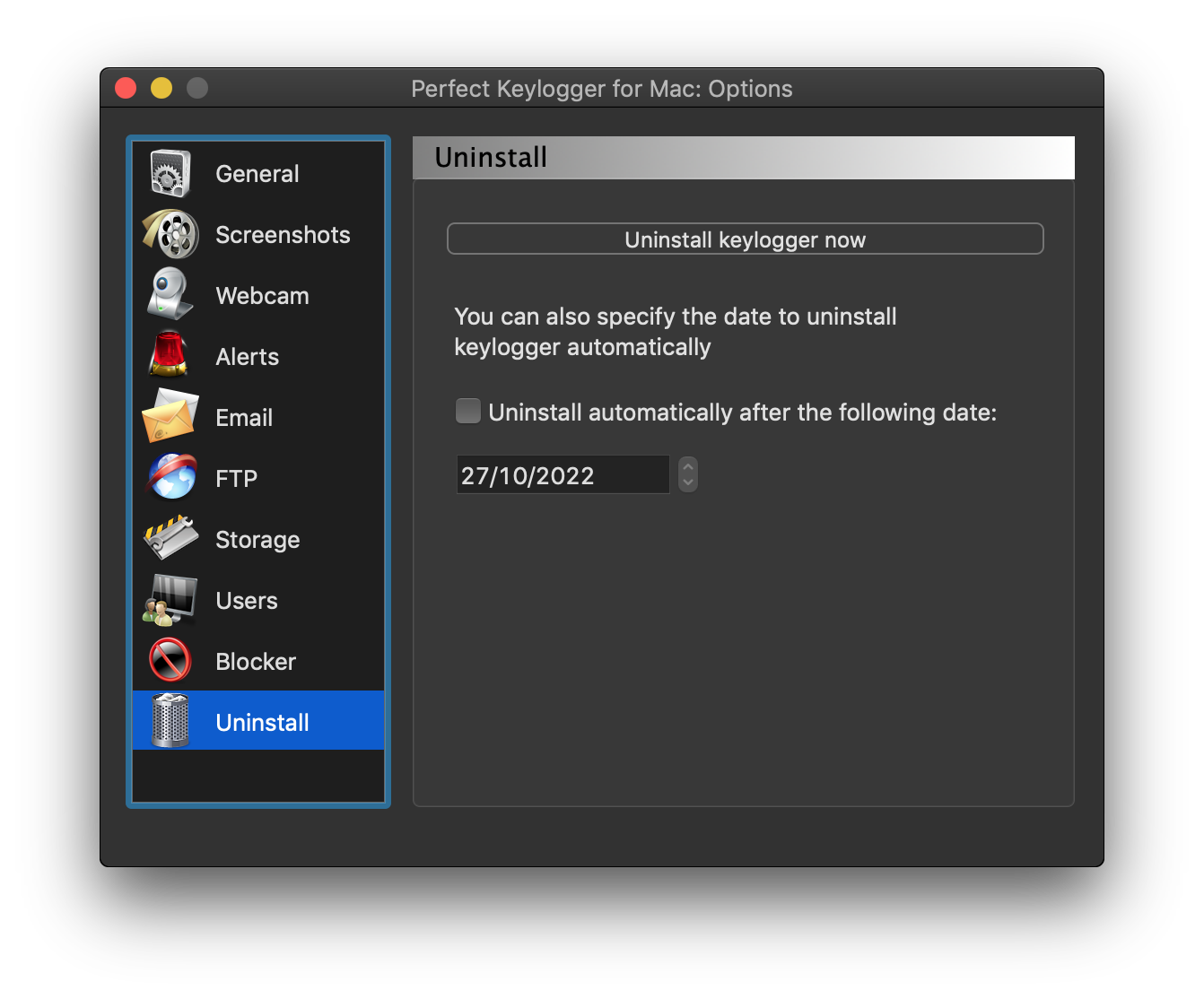 Retina display support: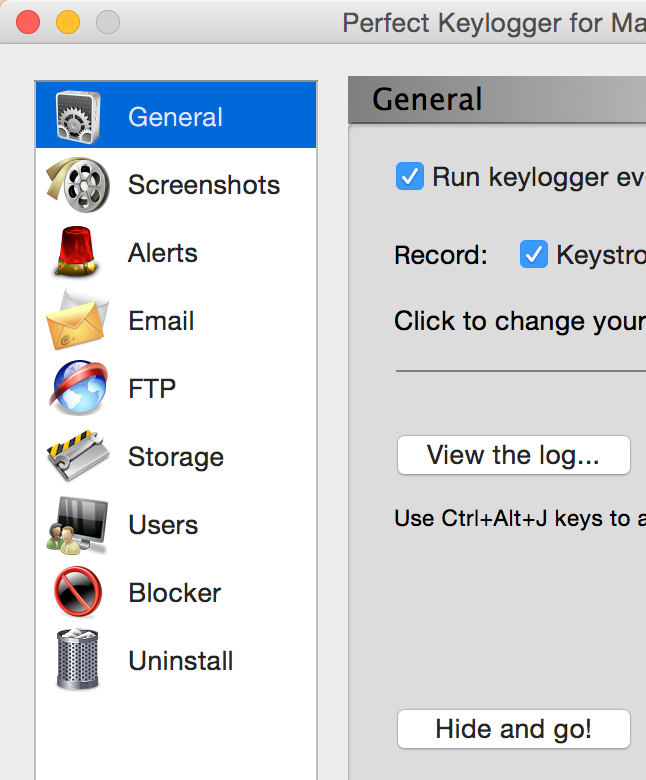 Perfect Keylogger for Mac - Log Viewer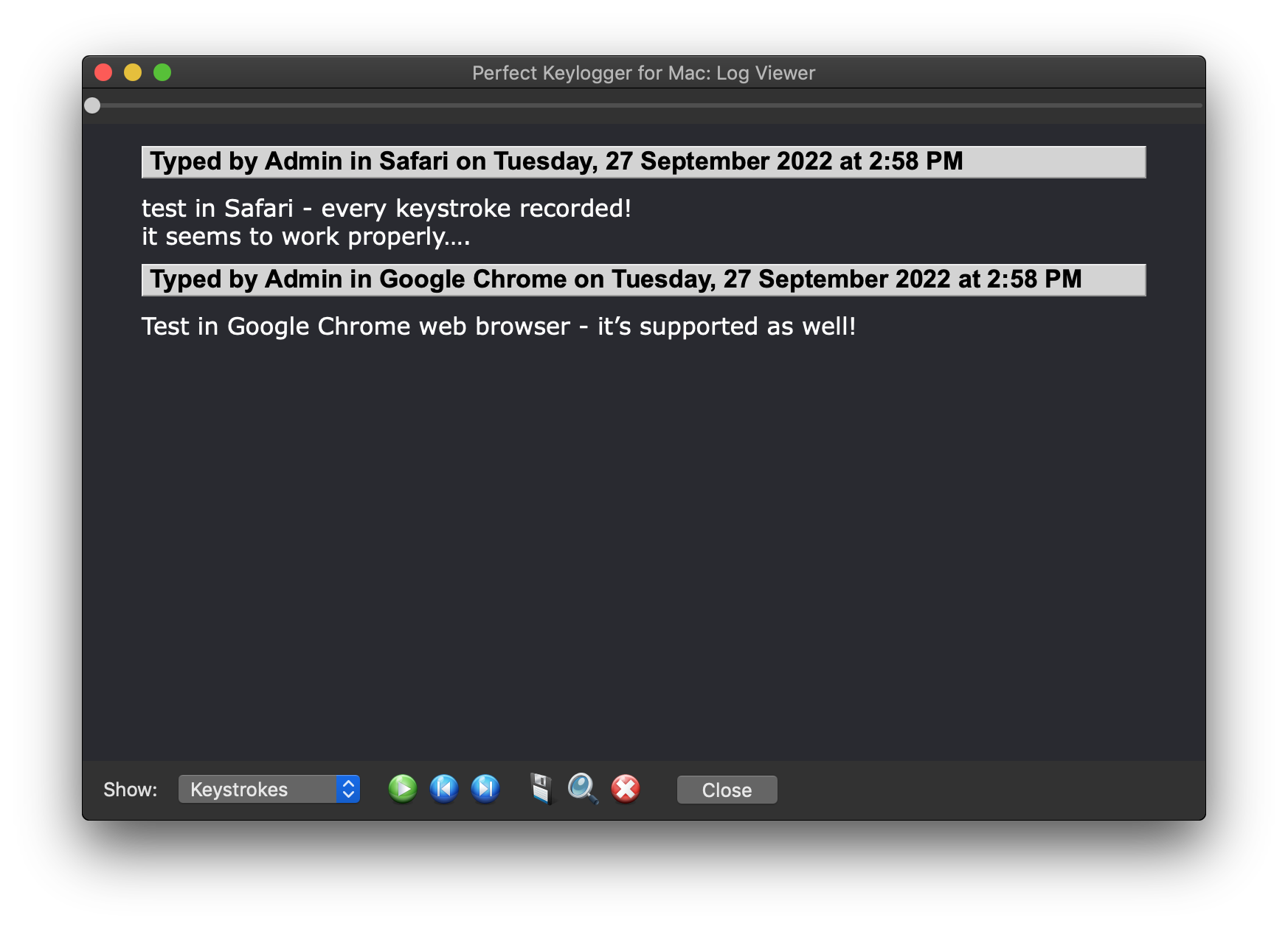 The software is available for download immediately after purchase!

Buy Perfect Keylogger for Mac now - secure online purchase!
Compatibility:
All Mac computers produced for the last 15 years.
Customer satisfaction and refund policy
Our software is well-tested and is working for thousands of customers. We guarantee to help you with any technical problem you may experience. If we will not solve your problem, we'll issue a FULL refund. If you have any doubts before purchase, please contact our tech support first. Please note that we do not issue refunds for simply changing your mind.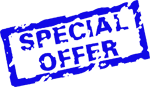 Buy more - Perfect Keylogger for Mac + Perfect Keylogger for Windows together just for $49.95

Translators wanted!

Translate the latest version of Perfect Keylogger for Mac from English to your native language and get this keylogger for free! Click here for details.

Customer feedback

I want to thank you for the the Perfect Keylogger for Mac. It was one of the easiest things to install and use. I found no bugs, used smtp functions, and it literally saved my life. Thank you for saving me years of pain and frustration! This was one of the greatest investments I have EVER made. Thank you, Thank you, Thank you!

-Scott

Thank you, the installation was simple and it worked first time without any messing around. Brilliant product and one you need to shout about a little louder as this works fantastically well compared to the others I've tried.

-Barry

This MAC Perfect Keylogger just saved my marriage. I knew my husband was cheating on me online, but could not get past the lies. With the Keylogger I was able to present the cold hard facts. He came clean and agreed to get counselling and now it's going great. The Tech Support that came with the program helped me all the way with any questions or difficulties. Thanks so much.

- S.P.




I already purchased "Perfect Keylogger for Mac Pro" with password recorder and it works extremely good.

I've only tested it on local machine. installation and config took less than 5 min.

-Pawel




Freeware parental control tool: