| | |
| --- | --- |
| | Boss Invisible - when you want to quickly hide what is on your PC screen |
Do you ever use your computer at work for playing games and then try to close it quickly every time someone approaches? Has your boss caught you looking at adult pictures? Are you afraid to enter certain websites while at work? Do you want to prevent nosy co-workers from peeking at what you are doing on your computer? In these cases and many others - Boss Invisible is what you need!
Why close the game or browser window when someone comes near your PC? Simply move your mouse pointer to the bottom-right corner of the screen to HIDE the window! Move the mouse back to that corner again to bring your window back into view!
Boss Invisible also hides your "secret" window pages from the Task Manager (Ctrl+Alt+Del) and removes them from the system tray near the clock in the lower-right of your screen. Your programs become instantly invisible and can be restored in an instant at any moment.
Boss Invisible itself is hidden by default. All you have to do to access it is to move your mouse pointer to the the top-left corner of the screen. You may then add all the window pages (that you want to hide) into a list which is part of the Boss Invisible program.

Click "Buy Now" to order Boss Invisible now for $4.95
Click "Download" to download a free trial version!

Screenshots of Boss Invisible:
Main Window
Options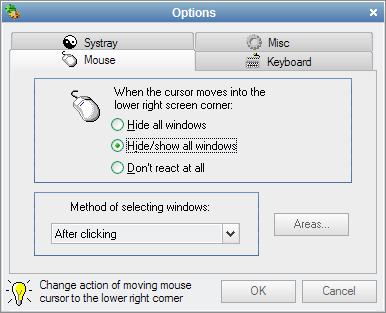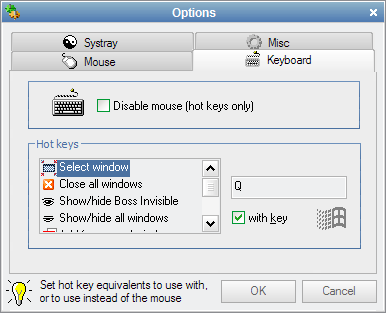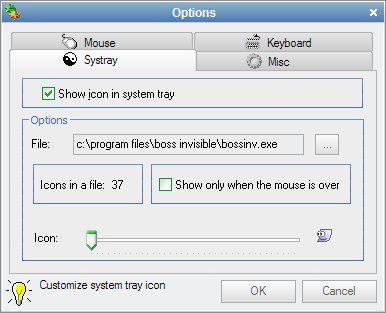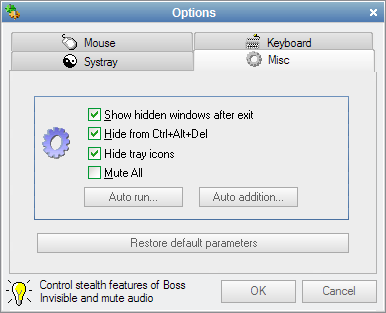 More features:
Windows 2000/XP/2003/Vista support
Friendly and easy to use user interface!

Buy Boss Invisible now - secure online purchase - just $4.95!